Measurement in Educational Research is a peer-reviewed open-access journal that publishes educational research articles in measurement and assessment. Every submitted manuscript will be reviewed by at least two peer-reviewers using the double-blind review method.
This journal is published biannually.
Measurement in Educational Research (Meter) publishes articles as a result of empirical research in quantitative methodology and publish research. This empirical research manuscript focuses on measurement education. We accept original research articles, including:
Data analysis

Measurement instrument

Reliability

Factor analysis


Validity and other techniques

Psychology variable construct

Factor Analysis

Item response theory

Classical test theory

Data categoric

Sampling technique

Statistics

Psychometry
For the author interested in submitting the manuscript, kindly ­register yourself. The author guidelines can be viewed here, and the manuscript template can be downloaded here.
Already have a Username/Password for Measurement in Educational Research? go to login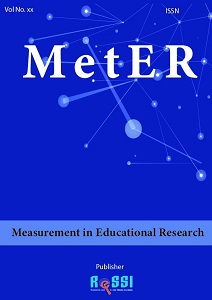 Announcements
No announcements have been published.
Vol 2, No 2 (2022)
Table of Contents
Articles
Umi Farisiyah, (Universitas Negeri Yogyakarta Indonesia)
Heri Retnawati, (Universitas Negeri Yogyakarta Indonesia)
Aminuddin Hassan, (University Putra Malaysia Malaysia)
Nur Hidayanto Pancoro Setyo Putro, (Universitas Negeri Yogyakarta Indonesia)
Erwin Syahril Mubarok, (Sekolah Tinggi Ilmu Tarbiyah Al Hikmah Brebes Indonesia)
10.33292/meter.v2i2.190
Abstract views : 73
Ira Kurniawati, (Universitas Sarjanawiyata Tamansiswa Indonesia)
Donny Khoirul Azis, (Universitas Islam Negeri Prof. KH Saifudin Zuhri Purwokerto Indonesia)
10.33292/meter.v2i2.188
Abstract views : 20
Ummul Karimah, (Universitas Negeri Yogyakarta Indonesia)
Edi Istiyono, (Universitas Negeri Yogyakarta Indonesia)
Anjar Purba Asmara, (University of Technology Sydney Australia)
Ilham Nasrullah, (Universitas Pendidikan Indonesia Indonesia)
10.33292/meter.v2i2.189
Abstract views : 28